Why Responding to Online Hotel Reviews is Good for Business
Long ago, businesses saw online reviews as something they couldn't control. Angry customers would go online to vent about bad experiences, and businesses were at the mercy of reviews. However, reviews today are less of a witch hunt and more like a mini travel blog, with reviewers recounting experiences in detail.
Today's travelers rely heavily on reviews. In fact, 89% of travelers say reviews are influential in the booking decision.1 Reviewers like to help each other by leaving accurate and vivid accounts of their hotel stays. After all, they appreciate it when other travelers do the same.
Luckily for business managers, online reviews are no longer a one-way street. All review platforms allow managers to leave responses to reviews. Some, like Yelp and Facebook, provide the option of even privately messaging a reviewer to further resolve any issues. Reviews can now act as an extension of customer service.
Responding to reviews isn't just a courtesy anymore – it's good business. According to PhoCusWright, 65% of travelers are more likely to book a hotel that responds to online reviews.2 Plus, many hotel brands are requiring that their brand hotels respond to reviews in 72 hours or less.

Online reviews go further than just TripAdvisor. When travelers book on OTAs, they are prompted to leave feedback. Facebook and Google prompt people to leave reviews of local businesses based on their current location. Even your brand website will place your hotel in competition with other properties in your area by aggregating reviews.
Using Reviews to Earn More Bookings
The most important aspect of managing online reviews is to invest in improving the experience future guests will have at your hotel. If you're responding to every negative review with a canned "thanks, we'll look into this" phrase, people will see that change is not really coming. Even worse, you'll start seeing reviewers referencing that they should have listened to older bad reviews. When you avoid addressing underlying problems it can snowball into a real reputation nightmare.
Instead, hoteliers' perception of online reviews should be shifted. Online reviews are essentially free consumer research waiting to be harnessed. Your customers are telling you exactly what they would like to see changed in order to enjoy their stay more and, by proxy, give you better reviews.

Use a sentiment analysis report to find out what issues are being repeatedly mentioned. This analytical reporting can help you identify trends in guest feedback and enable you to prioritize improvements based on what guests think is important. Be sure to tell reviewers in your responses what updates and renovations are in progress so that future travelers can look forward to the property improvements. Maintain what your property is doing right, and pay attention to reviews to identify problems you may not have known about.
Through elevating the perception of your hotel online and investing in property improvements for future guests, hotel reviews provide a significant opportunity to turn reputation management into increased revenue.
Learn about our Reputation Management programs, including industry-leading sentiment analysis report and best-in-class review responses. Here's a look at our sentiment analysis tagging system available to all Respond & Resolve clients.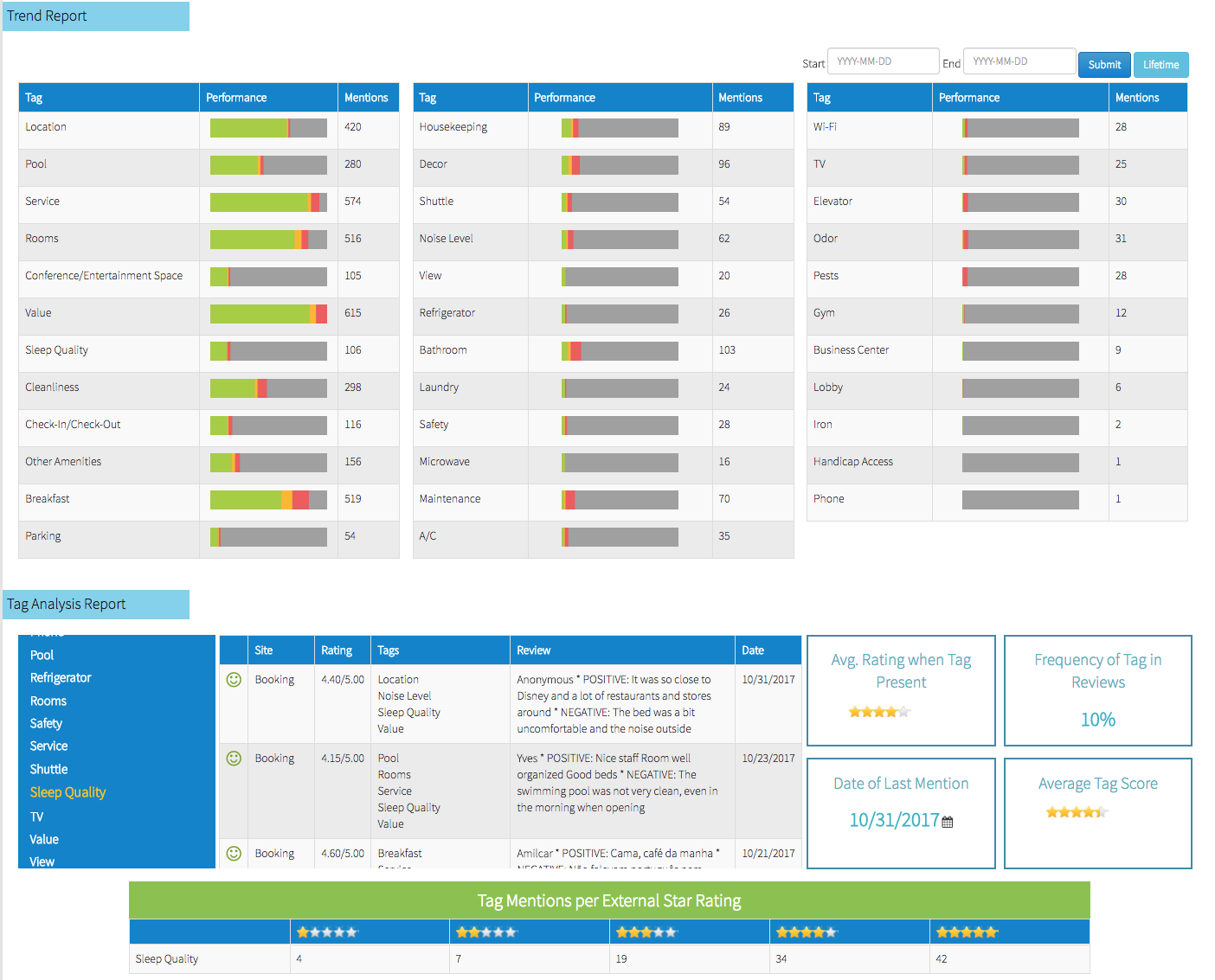 Want to see how you stack up against your competition? Request a free consultation today.
The post Online Review Responses as a Revenue Driver for Hotels appeared first on Travel Media Group.
Powered by WPeMatico